Fri, Dec 6, 2013 at 7:17 PM
Nicki Minaj Makes Colorful Entrance On VMA...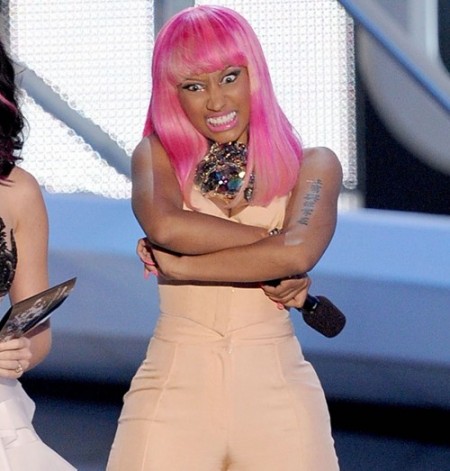 Article by Gil Kaufman for MTV.com
When you're making a live solo performance debut on TV, you have to make it count. And Young Money honey Nicki Minaj is not one to pull up short. Which explains why she poured herself into a pink-and-purple spacesuit topped by a cotton-candy-colored wig for the MTV VMA pre-show run of her new single, "Check it Out."
Accompanied by two dancers in matching outfits, Nicki stood stock-still like a futuristic superhero for the song's intro, then began to wiggle her world-famous hips over the song's sample of the iconic MTV launch-pad tune "Video Killed the Radio Star." Tossing in some high kicks and plenty of looks at her ample assets, Minaj held onto a railing ringing the stage and shook it slow as guest will.i.am of the Black Eyed Peas strutted out to drop his verse....
To read more, check out the MTV VMA site here.