Tue, Aug 23, 2011 at 4:25 AM
Nicki Minaj's Top Ten Collaborations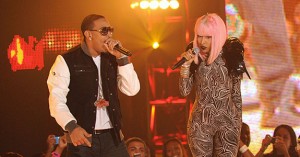 Nicki Minaj has already planted her Giuseppe Zanotti heels firmly into hip-hop well prior to her just-announced VMA pre-show performance. From her Young Money godfather, Lil Wayne, to Jay-Z, Kanye West, Usher, Ludacris and Trey Songz, she's chopped it up -- and in some cases stolen the spotlight -- from some of the hottest MCs in the game.
From razor-sharp lyrics to personality switches within a bar, it seems as though there is nothing Nicki can't do, even on someone else's track.
Hit the jump for Nicki's top collabos ...
10. "All I Do Is Win" Remix With DJ Khaled
Like most DJ Khaled tracks, there are about 30 heads present on the remix of 'All I Do Is Win," including Fabolous, Rick Ross, and Busta Rhymes. When Nicki checks in, she hits us with her Nicktionary, saving the top superlatives for herself. "I told Khaled you the best, but I'm the bestest. Better run for cover if your name is on my checklist."
9. "Lil Freak" With Usher
Nicki uses gender-bending tactics on her verse for this slippery track, acting like the bait to lure women to Usher. She's even seducing a woman in the video who seems a little defiant, and Nicki starts giving her the crazy eyes until the girl concedes. While the entire verse is pretty graphic – including naming Cassie as her next prey – she wraps it up pretty comically, exclaiming, "Everybody loves Raymond!"
For the full list of Nicki's top collaborations, check it out on
MTV Rapfix here
.