Sat, Apr 7, 2018 at 2:37 AM
Nicki Minaj Wants To Bridge 'Gap' Between Gay...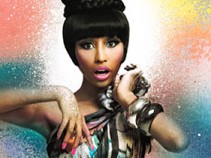 Nicki Minaj just might be the one to bridge the gap.
The 25-year-old female MC hasn't even released her debut album, Pink Friday, yet, but already her quirky hooks and outrageous fashion have made her one to watch in the gay community. Minaj has a bevy of gay fans, and she's hoping that she'll be the one to spearhead a movement to eradicate homophobia in hip-hop. She talks up her gay fans, her bi-curious lyrics and her embrace of her female following in the latest issue of Outmagazine, hitting shelves next week.
"I started making it my business to say things that would empower women, like, 'Where my bad bitches at?' to let them know, 'I'm here for you,' " Minaj says of her female followers. "Then, when I started going to the shows and it was nothing but girls, it was like, 'Did I go too far with embracing my girls?' Because now they want to kiss and hug me."
Read the rest of the article on mtv.com here.