Wed, Jan 23, 2013 at 7:28 AM
Nicki Minaj Joins Jay-Z On Stage at Yankee Stadium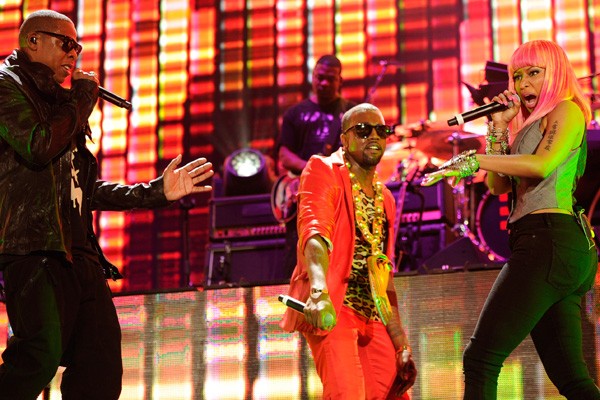 NEW YORK — Like a good cleanup man in baseball, Jay-Z delivers big hits on a consistent basis.
On Tuesday night (September 14) at Yankee Stadium, the Brooklyn rapper closed out the fourth of his and Eminem's Home and Home shows (two in Detroit, two in the Bronx) with a performance that would make A-Rod envious.
"Break a record in this bitch, Hov," he rapped during a freestyle right after the opening number, the intro to his The Dynasty: Roc La Familia album. "Hit them with that BALCO."
The Roc Nation head, however, wouldn't need any performance-enhancing substances to give him an extra boost on this night. He confidently cruised through 90 minutes of material; Jay-Z was just as cool as the fall night.
Kanye West quickly arrived onstage two songs into the show for a mini-set of his own, riding shotgun with Hov on the "Power" remix and "Monster."
Jay-Z grabbed the crowd's attention again minutes later with an anecdote about his exit from the venue the night before. The legendary MC said on the way out after Monday's performance he ran into rap pioneer Kool Herc. Jay said he asked Herc to join him for Tuesday night's festivities, thanking Herc for creating hip-hop culture. "We wouldn't be here without you," he said.
"You ready for me to get out of here yet?" 'Ye asked Hov, bringing it back to the present.
"Not yet, we going all the way tonight," Jay-Z responded.
Read the rest of the article on MTV.com here.