Wed, Jul 13, 2011 at 4:34 AM
Nicki Minaj and Will.I.am BTS With The BoomBox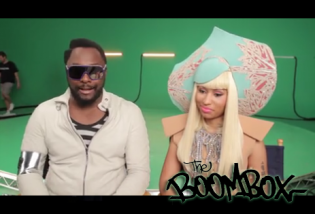 Will.I.Am and Nicki Minaj hit a Los Angeles soundstage this past weekend to film the video for 'Check It Out,' which the two first premiered at the MTV Music Video Awards pre-show. The track will appear on Minaj's debut album 'Pink Friday,' due in November.

"We're manipulating time and doing crazy things," Will told The BoomBox of the Japanese anime-inspired video. "The subject matter of the song is check out whatever it is you try and let fools know. This is like, "check my style out," so we like rocking crazy different styles in the video performance."
The duo's first time collaborating with each other lead to some mutual admiration. "Will.I.Am is someone in music that people really would kill to work with," Minaj told The BoomBox of Will. "He's one of those people that's like you have artists and you have fashionistas and then you have Will.I.Am. It's like every time I would tell people I'm working with Will.I.Am they would get super excited. His brand is a very trustworthy brand."

Though Minaj is the newcomer in the duo, Will was just as effusive in his praise for his 'Check It Out' partner, especially cause it got him cool points with both his family and a Black Eyes Peas band mate. "When I went home and I told my sister, 'Work is solid with Minaj.' She's like, 'What? You know how I love Miss Nicki Minaj. That is dope," he said. Fellow BEP bandmate also channels the love for Minaj. "Apl has a crush on Nicki," he says laughing. "He got all shy and when we was at the studio, you should have seen him, he got all shy."
TheBoomBox.com for more.