Wed, Feb 2, 2011 at 9:14 PM
Nicki Minaj Wins Big at BET Hip-Hop Awards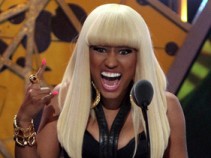 Nicki Minaj collected enough hardware for herself and a few of her alter egos on Saturday (October 2) as the female lyricist was one of the big winners at the 2010 BET Hip-Hop Awards.
The Lil Wayne protégé scored three trophies overall: ROOKIE OF THE YEAR, PEOPLE'S CHAMP and the MADE YOU LOOK AWARD, which was awarded in recognition of her fashion flair.
[Click HERE to listen to her acceptance speech.]
Decked out in a black dominatrix-like outfit, blond bob hairdo, pink nails and lipstick, Minaj took to the stage to accept her first award and was overcome by the recognition.
"Last year, I was here in anticipation of the cypher," she told the crowd, referring to the artist rap freestyles that run in between the award presentations and performances. "Now I'm here in anticipation of my debut. [Pink Friday, set for release November 23.]
"I'm paving the way for girls," she continued. "I wanna thank all the girls of hip-hop."
Visit MTV.com for more.
The Awards Are Scheduled To Air Tuesday, October 12, 2010, 8/7c on BET.