Sat, May 18, 2013 at 3:02 AM
2013 Billboard Music Awards Seating Assignments...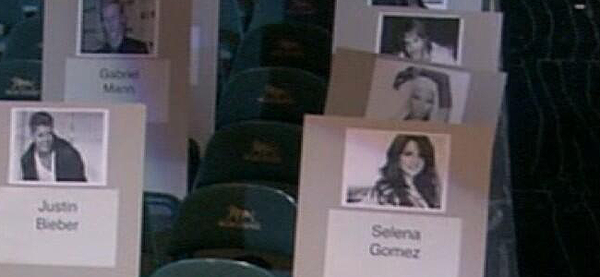 Tune in this Sunday, May 19 at 6:30pm ET / 3:30pm PT to see the LIVE stream of the BBMA 'Blue Carpet' on http://www.billboard.com/BBMABlueCarpet — and GUESS WHAT barbz, Nicki will be walking it.
Then, the Billboard Music Awards will air live at 8:00pm ET / 7:00pm PT on ABC, and it's sure to be a memorable one as Nicki is among the performers. She will be performing her single, "High School" with Lil' Wayne!
She is also nominated in 7 categories, including Top Female Artist and Top Rap Artist.
Also, peep a snapshot above of the seating arrangements for the upcoming awards, or at least — where Nicki Minaj will be seated (placecard pictured behind Selena Gomez's). "But I gotta keep an eye out for SA-LEEN-UR!".
Photo via (@BradBessey).