Mon, May 27, 2013 at 10:07 PM
REVIEWS: Wale – "Clappers" ft. Juicy J and...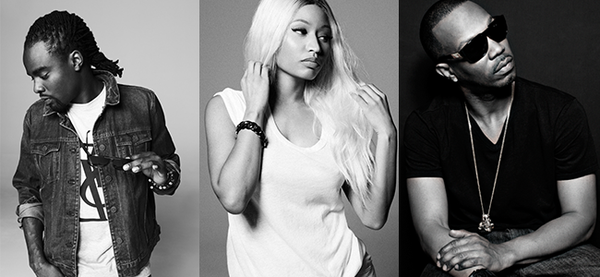 "The Gifted", Wale's third studio album – due out on June 25th, is currently in the mastering process & MMG's A&R Dallas Martin recently held a private listening session for journalists in New York.
So guess what, barbz? Turns out that WAS Nicki on the snippet after all. GET EXCITED!
Below, are some reviews for "Clappers".
Rolling Stone: This song feels like driving on potholes, only more pleasurable, more bounce. If you didn't or couldn't guess, it's intended for the clubs as an ode to strippers. (Emily Dickinson, take note.) The anthem samples EU's "Da Butt," and the live drums feel like they were recorded somewhere between RFK Stadium (the D.C. sporting venue) and Stadium (the D.C. gentleman's club). Juicy J does a Juicy J-ish verse, but the real star of this song is Nicki, who steals the show in 12 bars: "Shout out to the cellulite."
Billboard: "Clappers," a thumper begging to be played at strip clubs all over, features two rappers familiar with jams of the sort: Nicki Minaj and Juicy J. "Let a trippy ni--a see what you're working with," Juicy J requests during a musical breakdown that takes him into friendly "Bandz a Make Her Dance" booty-popping territory. Minaj swerves in for barely half a verse, playing the role of a pimp with a horde of women fit to please. Recalling E.U.'s classic go-go single "Da Butt," Wale yelps: "Shorty got a big ole butt."