Fri, Jun 7, 2013 at 7:13 PM
'The Perfume Shop' to launch Pink Friday...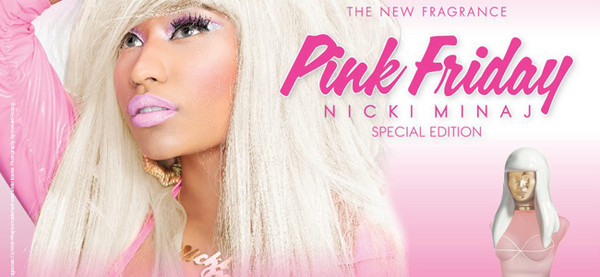 On the heels of Nicki's debut fragrance — "Pink Friday", The Perfume Shop (UK) will now launch the second scent, Pink Friday Special Edition. It is scheduled to be available June 18th in 30ml, and will retail at £23.50/€29.
Pink Friday Special Edition is a potion of luscious fruits and berries wrapped with lighthearted florals and a sultry blend of caramelized pear and sheer musk. The tempting top notes of grapefruit, juicy apple and white raspberry playfully intertwine with refreshing floral notes of water lily, honeysuckle and star jasmine petals.
Nicki stated that she wanted to give her Barbz a "special edition fragrance to wear, adding a bit of dimension and playfulness to the original scent." The Pink Friday Special Edition fragrance comes in a frosted bottle with a gold face framed by a long white wig.