Wed, Sep 25, 2013 at 5:25 PM
Why Nicki Minaj Is The Only Lady On The Cash...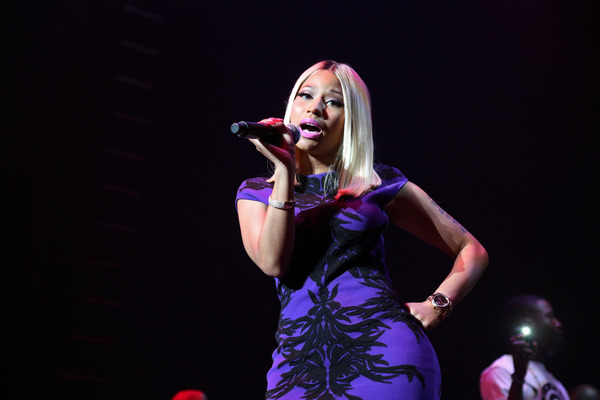 Looking through this year's list of Hip-Hop Cash Kings, you might find yourself asking, "Where the ladies at?" Nicki Minaj, who clocks in at no. 4 with an estimated $29 million, is the only woman on the list, earning more than Snoop Lion, Eminem and Kendrick Lamar combined. In fact, Minaj, who made her 2011 debut raking in $6.5 million has been the only female to ever make the Cash Kings list since its inception in 2007.
So where are all the other fierce females? Simply put, nowhere near the top. While a slew of upcoming female rappers have the potential to earn seven figures someday soon, in recent years, no woman MC other than Minaj has gained mainstream recognition and the record sales, touring, and endorsement deals that go along with it.
This year, Minaj nearly doubled last year's $15.5 million pay check by clocking impressive tour numbers to go with her American Idol gig and endorsements with Mac, OPI and Pepsi. She also owns a stake in Myx Fusions Moscato, a sweet wine now making its way into her music videos and rap verses. These deals rank Minaj far higher than any of her male Cash Money labelmates, including Drake, Lil Wayne, and YMCMB head honcho Birdman.
"I've never been afraid to walk into the boy's club," Minaj told a FORBES contributor. "Ever. Ever, ever, ever."
"Nicki's just got it," says music attorney Lori Landew, a partner in the entertainment division of Fox Rothschild. "Part of the reason she's so authentic is because she's so chameleon-like, which could come across as cartoonish and not attractive to a brand, but it works for her."
"Hip-hop today has become so much more competitive because there are so many more artists vying for attention," said Wendy Day, founder of Rap Coalition, a non-profit which helps artists navigate fair record deals. "It's a very male dominated industry, and it's very, very hard to establish yourself as a female rapper."
"It seems there's only one [female rapper] that gets anointed at a time," Landew said. "I think it's just more difficult for women in rap to break through the mainstream and to cross over into the male market."
While competition is an expected and often fruitful part of hip-hop, if these ladies hope to become Cash Queens, they will need to focus on selling records, growing their audience to become big touring acts, and endorsing wisely.
As Minaj says, "It's time for a female Jay, a female Puffy."
Cheers to that.
via Forbes.