Sun, Sep 29, 2013 at 5:45 AM
Nicki Minaj is Gifted A Hervé Léger by...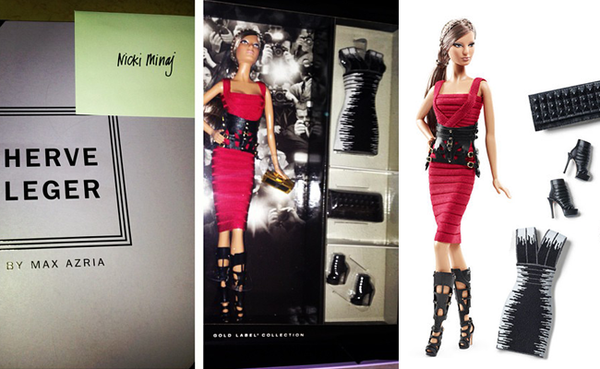 Nicki Minaj recently took to her instagram page to share a photo of her gift. "My kinda barbie. Thank you #HerveLeger #MaxAzria," she captioned. The doll retails for $150 at Neiman Marcus and at Hervé Léger by Max Azria stores.
Doll Details:
Barbie® doll wraps herself in chic couture fashions constructed out of authentic Hervé Léger by Max Azria bandages and yarns, and manufactured at the same factory that produces the full designer collection. The first look is a red haute bandage dress with a removable black harness belt, black gladiator boots and a signature black and gold clutch. The second look includes a black-andwhite jacquard dress, open-toe booties and a black-studded clutch.
Included with doll:
Stand, Shoes (2 sets), Purses (2), Harness.