Sat, Oct 19, 2013 at 11:00 PM
Win a Nicki Minaj Wardrobe!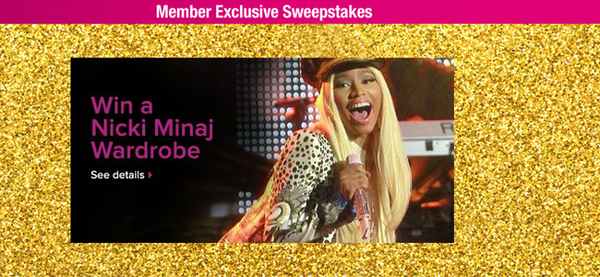 Have you entered the Shop Your Way "Love Nicki Minaj Win Points" Sweepstakes?
The Sweepstakes ends on November 9, 2013 at 11:59:59 pm CT. Visit Nicki Minaj's Sweepstakes page, click "Get Started Now" and follow the instructions: "Like" three (3) products from the Nicki Minaj public figure page on the Shop Your Way website. Complete these steps to receive one (1) entry into the Sweepstakes. You may receive up to two (2) additional sweepstakes entries by sharing the Sweepstakes on Facebook and/or Twitter from the Sweepstakes page.
Get going barbz!