Fri, Oct 25, 2013 at 5:45 PM
Mavado And Nicki Minaj Throw A Beachside Rager...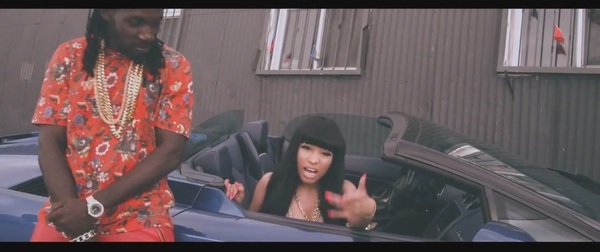 Just in time for the first chill of the season (#AllHailLeatherJacketWeather), Jamaican singer Mavado has unleashed his beachside, Nicki Minaj-assisted video for "Give It All To Me."
Oh, and we're assuming the Grizz Lee-directed clip was shot during the warmer summer months because, as you'll soon learn, "Give It All To Me" is actually code for babes, bikinis, more babes, and Nicki Minaj's bodacious bod.
As his bouncy, island-tinged record spins in the background, Mavado and his crew roll up to a scenic, waterside spot. But the party doesn't reach sufficient levels of rage until Nicki Minaj, ridin' dirty in a Smurf-blue Lamborghini, pulls up to rile the crowd up even more.
Later, the rager evolves into a wild dance circle (OMFG to the girl doing a full split), and Mavado and Nicki seem content to spend their afternoon chillaxing together in coordinated floral ensembles. Ensembles, we might add, that are totally the unsung heroes of this whole video. I mean, MAVADO'S FLOWERY SHIRT! WE CAN'T.
Be on the lookout for "Give It All To Me" on DJ Khaled's recently dropped Suffering From Success disc.
In case you missed it, watch Mavado's "Give It All To Me" video featuring Nicki Minaj below!