Mon, Jun 2, 2014 at 9:02 PM
Rolling Stone: Nicki Minaj ruled the roost at...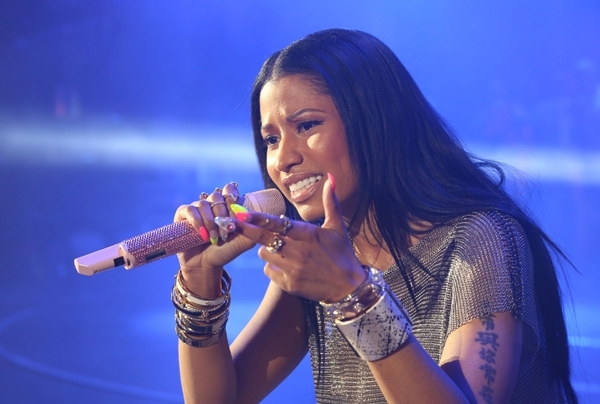 Summer Jam 2014: Nicki Minaj Wins
The most apparent cultural shift came via the evening's headliner: Nicki Minaj, the first woman Summer Jam headliner since Alicia Keys in 2008 and, barring this year's performance by Sevyn Streeter, the only woman booked for the main bill in the years since. In 2012, Minaj was scheduled but did not perform after the Hot 97 DJ Peter Rosenberg dissed her — and women hip-hop fans — while hosting the festival's smaller stage, announcing, "I know there's some chicks here waiting to sing 'Starships' later, I'm not talking to y'all right now, fuck that bullshit. I'm here to talk about real hip-hop shit."
As if to prove him wrong, she took to her pink Swarovski-encrusted mic with a vengeance, rapping old hits like "Beez in the Trap" and her MC-destroying "Monster" verse, as well as newer songs like "Lookin Ass" and the Soulja Boy-featuring "Yasss Bish!!!," as though she were chewing and spitting out everyone around her. On her remixes of "Chiraq" and "Danny Glover," for which she brought out the uber-relevant rappers Lil Herb and Young Thug, you could practically see her fangs grow. And on "Moment for Life," one of the "pop" singles that, presumably, Rosenberg maligned, she sang passionately and defiantly with two back-up singers who borderline took it to church. In the best set of the night, she enunciated each word with utter confidence, showing just what type of polished, astoundingly precise rapper pop stardom has made her.
Still, Minaj's most dramatic and exhilarating moment occurred about a half-hour in. Courting the Summer Jam expectation that beef shall be wrought — and, perhaps, echoing the chaos that went down in the G-Unit set earlier — the rapper announced that she had beef with one of her Young Money cohorts. "Drake? I used to love you, but nigga I don't fuck with you no more!" The crowd was utterly shocked for about 15 seconds, moaning and booing… until Drake himself emerged to the beat of "Worst Behavior," bodying his verses while Minaj smiled to herself, clearly proud her prank had gotten over.
And when the charismatic Lil Wayne emerged, shirtless and all smiles, for "Believe Me," the reaction from 70,000-plus in the stadium showed that, perhaps, a new kind of Summer Jam was in order, perhaps one more about unity than division. It was an inveterate rapper from New Orleans feting his protégées — a fierce, drag-queen-channeling woman from Queens and a biracial nice-guy from Toronto — and it was the most current hip-hop moment of the night.
via Rolling Stone