Sat, Dec 17, 2011 at 1:14 PM
Nicki Minaj Nominated for 3 Awards @ The 2012...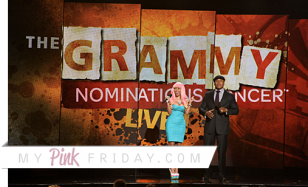 Nicki Minaj Announced the "Record Of The Year" nominations at the Grammy Nomination Concert tonight at the Nokia Theatre in Los Angeles, CA. Nicki Minaj herself was later nominated for Best New Artist, Best Rap Album, & Best Rap Performance at the 2012 GRAMMYS! Check out some photos below of Nicki Minaj at the Grammy Nomination Concert & head over to Grammy.com for more info!
Tune in to the GRAMMYS on Feb. 12 at 8/7c on CBS.