Fri, Feb 10, 2012 at 12:54 AM
Nicki Minaj Joins Madonna For Super Bowl...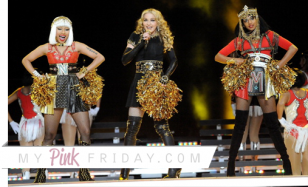 Two days ago the world finally got a chance to see Nicki Minaj and M.I.A. prance around in cheerleader outfits for their appearance in Madonna's "Give Me All Your Luvin" video, and on Sunday night (February 5), the two rappers joined the Material Girl during her live performance at the Super Bowl XLVI Halftime Show. Madonna kicked things off with her 1990 classic "Vogue" before Nicki Minaj and M.I.A. showed up to perform the new single. Minaj was done up in a white wig, and a sexy red and black outfit, as she an M.I.A. both performed their verses raised up on separate platforms. Check out the photos below.