Mon, Oct 1, 2012 at 11:30 AM
Nicki Minaj Dishes on Fragrance, 'American...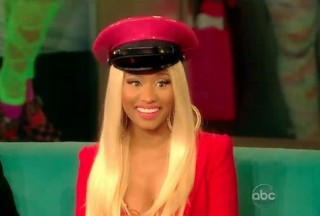 Nicki Minaj spread some sunshine during her first visit to "The View" on Monday morning. Wearing a blonde wig and pink captain's hat, the newest "American Idol" judge took a seat alongside the ladies and Olympic gold medalist Gabby Douglas to chat about her "cooky" style, meeting Lil Wayne, her "Pink Friday" perfume, joining Mariah Carey on the "Idol" panel, and her advice to her Barbz.
"I like to be in control of everything. It might be kind of a disorder I have," said Nicki.
Her glam squad also helped make over a "View" intern and super fan named Sade, who rocked a pink wig and tutu like her idol.
Watch video of her appearance below.