Wed, Jul 13, 2011 at 2:41 AM
R.I.P Nickis cousin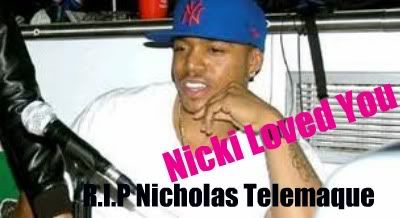 Nicholas Telemaque,also known as 'Juse'by Nicki&family was killed.:'(
The NYPD tells E! that Telemaque was found with multiple gunshot wounds yesterday at 2:40 a.m. after officers responded to a 911 call of shots fired. "He was the victim of multiple gunshot wounds in his upper torso," an NYPD spokesman said. EMS arrived on the scene shortly after and transferred him to Kings County Hospital where he was pronounced DOA.
Her New sonq"we miss you'is dedicated to him.