Sun, Sep 11, 2011 at 11:44 PM
Harajuku Barbie Look
"Harajuku Girls", known as the "fashion aficionados," or "beauty stars of Japan", is best known worldwide for their unique costumes, which are made in different styles of clothing that come from a culture rich in and some major cities of Japan. They are the name of an extremely popular Harajuku district of Tokyo.






Japanese girls who are in a narrow street of the "Takeshita" every weekend and dolls dressed as Lolita style cartoons. Many styles of fashion, such as cyber-fashion, cleaning Wamono Gothic, Gothic Lolita Fashion and Decorah second hand, one can see the girls.






WHY?
Why these girls are dressed in costumes as outrageous Harajuku every weekend? The answer is "No". There are much deeper reasons behind it. The ceremony lasts weeks only a few hours you can not just spend their free time and money, but also temporarily escape the strict rules of society dominated by Japanese men. Outrageous styles of dress that symbolizes the oppression of women and try to get her to express individuality and independence.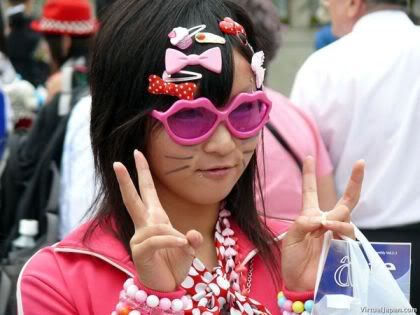 In summary, the Harajuku district is a weekend must for anyone visiting Tokyo. If you really want to see a unique blend of tradition and modernization of Japanese society, which definitely should not miss the opportunity to meet these wonderful icons of fashion and the beauty of the stars in Japan.[/b






]