Wed, Mar 9, 2011 at 3:59 PM
MEETING NICKI MINAJ APRIL 3RD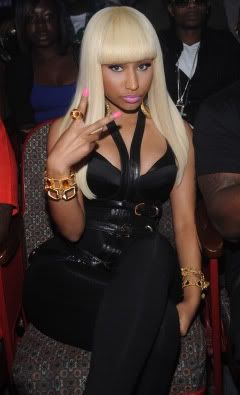 OMG I'M SOOOOOOOO EXCITED ABOUT MEETING NICKI ... I LOVE HER VERY FUCKING MUCH!!!!! XOXOX WORDS CAN'T EVEN BEGIN TO EXPRESS WHAT APRIL 3RD MEANS TO ME.




I MEAN THIS IS LIKE A DREAM COME TRUE FOR ME. TO BE MEETING A PERSON THAT I FEEL SO CLOSE TO YET HAVE NEVER MET OR TALKED TO BEFORE.
I HAVE STOOD BY HER, AND SUPPORTED, LOVED AND ADORED HER SINCE 2007.




I HOPE THAT I DONT EMBARASS MYSELF AND START CRYING!! OR WORSE I FORGET MY NAME AND EVERYTHING I WANT TO TELL HER!! =(
I CAN'T WAIT TO FEEL HER WARM EMBRACE .... WHICH I KNOW I WILL COMPLETELY LOSE IT THEN LOL




I'M GOING TO SEE HER BY MYSELF. BUT I'M TRYING TO FIND OTHER NICKI STANS GOING TO THIS WASHINGTON DC SHOW BECAUSE I WOULD LOVE TO MEET OTHERS FANS THAT ARE JUST AS PASSIONATE AS I AM FOR HER. I HOPE THAT THIS MEET AND GREET IS A GREAT EXPERIENCE AND THAT NICKI GIVES US ALL "SPECIAL" ONE ON ONE TIME WITH US ......OMG *CRYING* AT JUST THE MERE THOUGHT OF THIS.




25 DAYS UNTIL MY MOMENT FOR LIFE BARBZ & KENS!!




LOVE YOU GUYS!!! XOXOX I HOPE YOU HAVE FUN AT THE SHOW!!!!