My favorite color is pink and zebra print. I love listening to Nicki Minaj when Im in my own zone. She is my motivation. She keeps my spirits high and her songs always answer my questions to my problems. I absoultely Love her and really wish I will meet her very soon.


GIFSoup
This is the Baddest Bitch in the Whole Fuckn World!



I think this is suppose to be about me but Ima be about her. Nicki Minaj is my life. I think I will die if she retired from everything....I love her, and all of her songs.



Nicki and Drake IS i repeat IS the cutest couple in the world. If they are not together.. I dont care they still are cute and wonderful together!!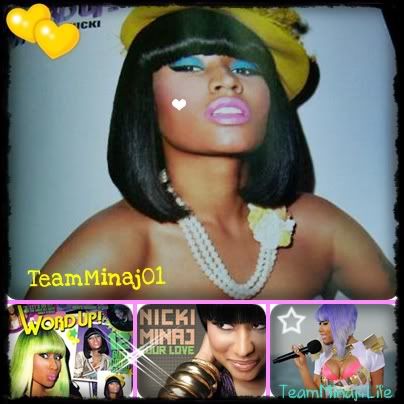 Team Minaj ALL DAY ERR DAY BABY!



Whatevea Bitch!!

I love you NICKI!
Blog
Thu, Jul 7, 2011 at 4:47 PM

Lord, We come to yuh today to ask for you to forgive us for our sins and be with us. We know that we do bad things but we know that you will always stay on our side no matta whut we du. We also come to you for the Maraj family. As you see you took one of Nickis cousins from her. Please let him be up there with you and let him watch over her as she go there her journey in life. Help Nicki go...