Hi my name is Malarie :) and you can clearly see I rock :P Nicki pooh you are the bestest & I love you girl. Your music really speaks to me like Im sure it does to alot of young women. Thank You Nicki! for empowering me and giving me someone fun and beautiful to look up to, I couldnt ask for anything more ♥






eat your ♥ out




"Bank rolls gimmie all them pretty furs cause my pussy game cold when he hit it he say 'burr', he say 'burr' 'bur bur bur burr, imma imma marry her' and he play with that purr like he strummin' his guitar"




Tell them hoes stoppington; they know they want everything that we be coppington.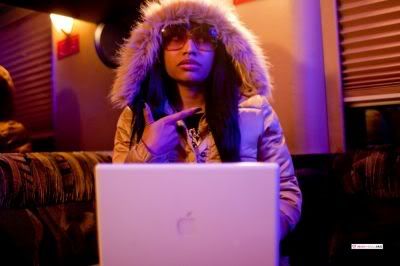 Don't talk to me about chicks got skills; she's alright, but she's not real.




I tell a bitch this: I'm not impressed bitch I'm Nicki M trick, I'm always on the guest list.




Flyer than a rocket, money in my polly. My Pocket what you coppin; keep that work up in my pippy long stocking bitch




I told Khaled that you the best, but I'm the bestest. Better run for cover if your name is on my checklist.




What the fuck I look like bitch, I run this town.




I just came up in it a little bit self-centered.




I'm such a bad, such a badass & I be lookin' for the girls with a fat ass




I'm the Barbie. Keep a lot of plastic, little pink stars, put 'em on my jacket. Somebody tell her I'ma put her in a casket




You bad, but Nicki is badder Step ya cookies up, go get you a ladder




I just came out of the mothafuckin' old school. Got my mac notebook with the pro tools




Class is finished, you'll be home by three. Tell all of them rap bitches what you know 'bout me




Write it down, take a picture, bitches email that. I came to save a thing called female rap.




He make my pussy sing like it's a mozart. He say the pussy pretty, it look like show art.




Once upon a time not long ago lived a chick named Nicki wit a naughty flow




I got that presidential cooch, when he see it he salute


Blog
Tue, Nov 1, 2011 at 1:07 AM

im dressing up as my boyfriend...literally!