YOU ain't a Nicki fan then the bitch deaf dumb
http://www.sparklee.com" />

free photo rating



Click Here For Images &
Nicki Minaj Quotes Pictures - Pictures

ITS BARBIE BITCHEZ!!!!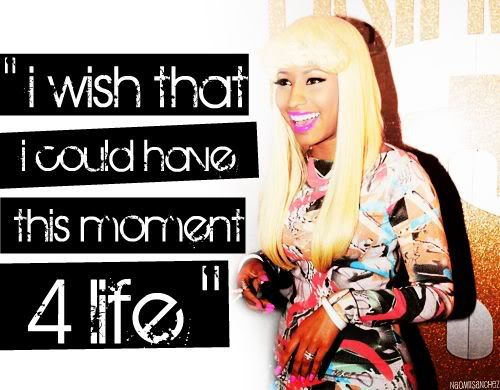 DJ Webstar (Feat. Nicki Minaj) - Bought The Bar by T-UNiiiT
Blog
Fri, Jul 15, 2011 at 4:40 PM

LIFE IS A STRUGGLE BUT WE ALL MUST GO THROUGH A STRUGGLE TO MEET THE SUCCESS. IF EVERY THING IS HANDED TO US WHERE WOULD THE LESSONS IN LIFE BE? WITHOUT GOD LIFE CAN NOT BE COMPLETE.WE WAKE UP EVERY MORNING HAPPY THAT WE ARE ALIVE BUT DO WE GIVE THANKS? STEP ASIDE N MAKE SURE TO GIVE PRAISE TO THE MAN ABOVE. WE HAVE GOALS IN LIFE LETS NOT SIT BACK N LET THEM BE TAKIN AWAY FROM US LETS MOV AHEAD...