Onika Tanya Maraj (born December 8, 1982 or December 8, 1984, known by her stage name Nicki Minaj , is a Trinidadian-born American rapper, singer, songwriter, and voice actress. She was born in Saint James, Trinidad and Tobago. When she was five years of age, she moved to the New York City borough of Queens, where she grew up. Minaj trained as an actress before she released three mixtapes between 2007 and 2009 and signed to Young Money Entertainment.

Minaj rose to prominence as a recording artist when she released her debut album, Pink Friday, in November 2010, peaking at number one on the U.S. Billboard 200, being certified Platinum by the Recording Industry Association of America (RIAA) a month after its release.[3][4] She became the first female solo artist to have seven singles on the Billboard Hot 100 at the same time. Her seventh single, "Super Bass" has since been certified quadruple-platinum by the Recording Industry Association of America , and has sold more than four million copies, becoming one of the best-selling singles in the United States. Minaj released her second studio album, Pink Friday: Roman Reloaded in April 2012, which topped charts internationally, also spawning the top 10 singles "Starships" and "Pound the Alarm". Since, the album has become one of the best-selling albums of 2012, according to the Nielsen SoundScan, selling 1,000,000 copies worldwide.[6] Minaj embarked on two worldwide tours, The Pink Friday Tour and Pink Friday: Reloaded Tour.
Hip-hop artist, singer. Born Onika Tanya Maraj on December 8, 1984, in Queens, New York. Minaj's father was a severe drug addict with a long history of violence. At one point, he set fire to the family's home in a failed attempt to kill Minaj's mother. Those early struggles, Minaj has said, helped fuel her drive to rise above the life her parents knew. "I've always had this female-empowerment thing in the back of my mind," she told Details magazine, "because I wanted my mother to be stronger, and she couldn't be. I thought, 'If I'm successful, I can change her life.'"

To reach that point, however, the young Minaj developed personas for herself that would allow her to be a "new person." An early incarnation was someone she called "Cookie," then came "Harajuku Barbie," before finally settling on Nicki Minaj. "Fantasy was my reality," she has said. Minaj clearly had a knack for performance. At the age of 12, she authored her first rap, then went on to delve into acting at La Guardia High School of Music and Art, the school that inspired the movie Fame.

Minaj is known for her unique artistry. Her rapping technique has been noted by critics for its use of alter-egos, accents (notably, British cockney), and fast-pacing. Minaj is known for her use of outlandish and colorful costumes, wigs and clothing and has been recognized as a fashion icon.[7] She featured as a voice-actress in Ice Age 4: Continental Drift and has endorsed brands such as Pepsi, MAC Cosmetics, and Adidas. Minaj's work has earned her six BET Awards, two American Music Awards, one MTV Music Award and Billboard's 2011 Rising Star. Minaj set precedents for female rappers by becoming the first female artist included on MTV's Annual Hottest MC List, with The New York Times suggesting that some consider her "the most influential female rapper of all time.
Determined to make it in the music business, Minaj took on backup singing roles for local New York City rappers. Soon, she began writing her own material. She was eventually discovered by Dirty Money CEO Fendi, who came across Minaj's MySpace page, loved what he heard, and immediately signed her to his label.

That connection led Minaj to Lil Wayne, who collaborated with her on a series of mix tapes, the first of which, Playtime is Over, was released in April 2007. The recording, and subsequent mixed tapes, showcased Minaj's female swagger and out-front style.

By early 2010, considerable anticipation had built up around Minaj's much discussed, much covered debut album, which was scheduled for release that fall. In April of that year, she released her first single, "Massive Attack." Two months later she won Best Hip-Hop Female at the annual BET Awards. She dedicated the award to Lil Wayne.

In August 2012, several news outlets reported that Minaj was slated to become a judge on season 12 of the popular television show American Idol.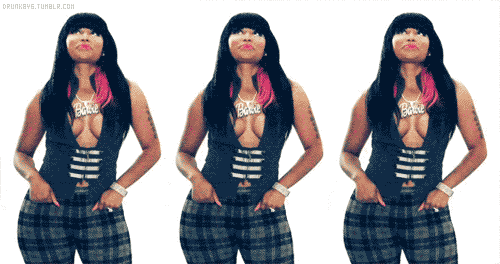 Blog
Tue, May 3, 2011 at 10:02 PM