first thing first , i am true NICKI fan cause i was #teamMINAJ wayy back when she put out "Beam Me Up Scotty". i was supporting her before she was on 5 star chick and all that other SHIT! Nicki is the REAL bad bitch i know . you fuck with her , you fuck with me ! like the queen herself said "My haters are my motivators". fuck what yall gotta say, im just gonna keep it real !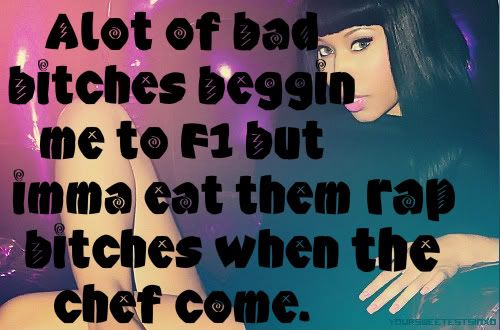 Blog
Fri, May 6, 2011 at 3:35 AM

Nicki Minaj Explains Postponing Rihanna 'Fly' Video With her 'Super Bass' video set for release, Nicki says she wants to give Rih's current singles their 'moment.' Nicki Minaj may be on top right now but that doesn't mean the Pink Friday star won't share the spotlight. Her song "Fly," featuring Rihanna, was slated to be her next single, but now Minaj has decided to...